fimmtudagur, desember 01, 2005
Ég var að fá bestasta pakka í heimi! Ég fékk jólaskraut frá
Danielle
í jólaskrautsskiptunum og ég er helst á því að það sé flottasta jólaskraut í heimi!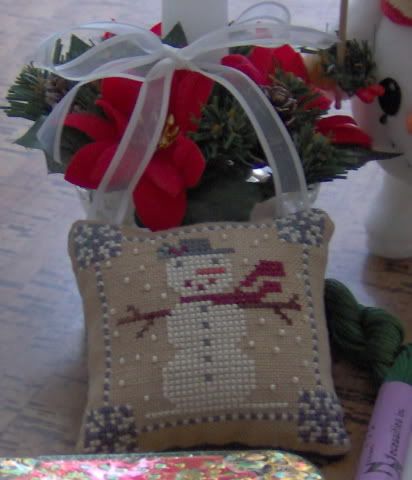 Hvað finnst ykkur?
En það endaði sko ekki þar því pakkinn sem hún sendi mér var troðfullur af alls konar flottu dóti.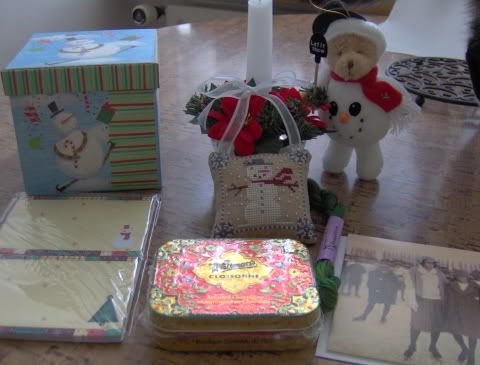 Bangsinn í snjókallabúningnum er ótrúlega flottur :-) og svo sendi hún mér Needle Necessities garn sem er æðislega fallega grænt. Svo fékk ég líka súkkulaði (á myndinni er ekki búið að opna kassann en það var þá, þetta er núna ;-) ) og miða fyrir skilaboð, kassa með snjókallamyndum á sem jólaskrautið var í og sætt jólakort. Ég er alveg orðlaus yfir þessari gjafmildi :-)
Christmas ornament from Danielle
I got my ornament from
Danielle
and she made me the cutest snowman and finished it with a nice bow. I love it and like I told her, I will cherish it forever :-)
She also sent me awesome goodies that I can't believe were all for me.. She sent a beautiful green floss from Needle Necessities that I'll use when I make my Joy Christmas Needleroll next year. And she sent chocolates (that won't make it till christmas ;-) ), a cute teddy in a snowman suit ornament, self-stick notes with the cutest motivs, a box to keep the ornament in and a nice handwritten card.
Danielle's generosity is overwhelming. I've already sent her a thank you letter, but I'd like to thank her once more. Thank you, Danielle. You made my day with this wonderful package and the snowman ornament you made me. It's already on display and it puts a smile on my face everytime I look at it :-)
posted by Rósa at 15:18, |

5 Comments: