miðvikudagur, ágúst 30, 2006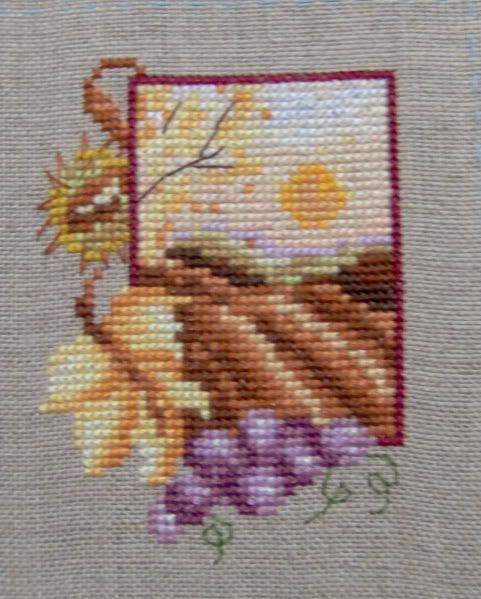 I just finished stitching on Edda's RR and am quite pleased with the outcome. Edda chose Passione Ricamo's seasonal postcards (the ones that were freebies a while ago on PR's website) as her theme and since I'm the last stitcher I got the one that's left over and that happened to be autumn. I don't mind that at all. In fact the colors chosen are amazingly beautiful, especially together! But oh, boy, there are a lot of colors for such a small design! I didn't count but wouldn't be surprised if it was in the region of 40..
Edda didn't want us to include the wording so this is finished, I just have to add my initials. I'm not sure quite where they'd fit in this design but I'll manage :-)
So hopefully tomorrow this little beauty along with the other seasons is going home to mommy ;-)
In other news I have kinda put down on paper what I'd like the back of the biscornu to be like for the exchange I'm participating in on Allt í Kross yahoo group. Can't wait to know what the recipient feels about the way it turns out. I truly believe it's going to be awesome, dude! (too much Rockstar: Supernova in my system. Áfram Magni!)
The redwork exchange is still not assembled. I did buy another fabric for it and am mulling over in my head what to do for the finishing.. I kinda know but I've never done that before so I'm kinda nervous. But this is gonna be killer, baby! (Rockstar: Supernova is on tv here now (rerun of yesterday's show)). I'm off to watch it on tv and hope Magni doesn't get booted off (only one more hour till we know!) If that happens there's no reason for me to watch this show anymore.. And it's become a guilty pleasure for me :-D I would miss it..
Efnisorð: RR
posted by Rósa at 22:56, |

4 comments