mánudagur, nóvember 28, 2005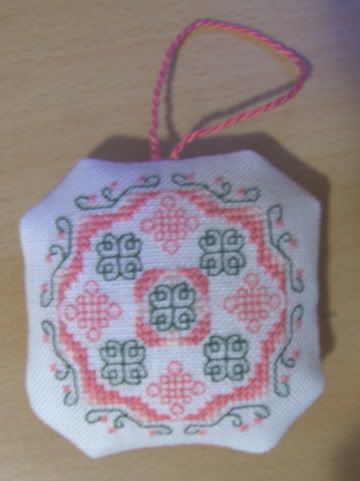 Ég sagði frá því fyrir tæpri viku að ég hefði sent frá mér jólaskraut í jólaskrautskiptum sem ég tók þátt í. Jæja,
Isabelle
er búin að fá jólaskrautið sitt og er hæstánægð með það :-) Ég er svo fegin að henni þótti það fallegt því ég var á tímabili soldið farin að efast um valið mitt. En í emailinu sem hún sendi sagðist hún vera ofsalega hrifin af því og ég trúi því :-)
Þetta er freebie frá The Golden Hoop og gert af Jodi Watson. Því miður virðist síðan sem ég fékk munstrið á vera horfin úr vefheimum. Ég saumaði þetta með DMC garni á Cashel linen.
Christmas Ornament received!
I'm so glad that
Isabelle
liked the ornament I stitched for her in the Christmas Ornament Exchange on
SBEBB
. She sent me the nicest email telling me she'd received :-) I was doubting my choice but decided to follow my first instinct and she says she likes it! It really made my day to hear that :-) As did reading all the wonderful things she had to say about me. I'd just like to say thanks to Isabelle for being such a sweet and wonderful person.
Now the details: I chose to stitch The Golden Hoop 2004 Christmas Ornament Freebie by Jodi Watson. It's stitched on 28 ct. white Cashel Linen with DMC threads. It was put together with backstitching on the two sides and then whipstitching the two sides together. If you want to see better pictures of it then hop on over to
Isabelle's blog
.
I am afraid that the website that provided the freebie is caput so I can't offer a link to this freebie.
*
Edit
*
Outi
remembered seeing this pattern on
CyberStitchers
and sent me the link. So
here
it is for those of you who might want to stitch this one yourselves :-)
posted by Rósa at 20:30, |

10 Comments: