föstudagur, febrúar 10, 2006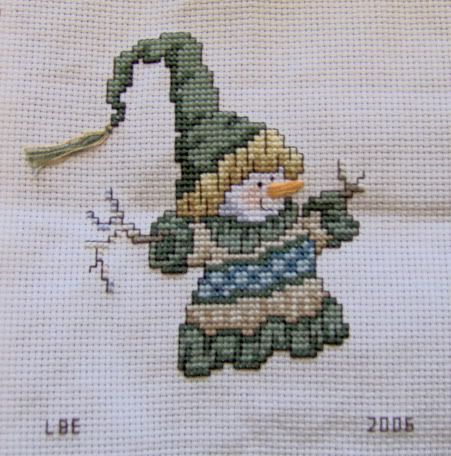 Ég er þvílíkt hamingjusöm :-) Linda var ekkert smá snögg að sauma þennan æðislega snjókall. (afsakið myndagæðin, eða skort þar á) Mér finnst hann svo sætur. Þeir eru allir sætir, reyndar finnst mér minn einna sístur, mig langar soldið til að sauma annan bara af því að hinir eru svo flottir.
Svo er hérna mynd af öllum snjóköllunum í röð.
Fyrsti er minn, svo kemur Fionu, þá Becky og síðast en ekki síst, Lindu snjókall :-)
Snowman RR comes home
I'm so happy :-) Linda stitched this cute snowman so quickly, she's amazing :-) (sorry for the poor pictures) I just love this adorable little snowman. In fact they're all so cute, I think the one I stitched is the least one of the lot. I kinda feel like stitching another one for this RR coz the others are so pretty and nice.
In the small pic you can see all the squares. From the left there is mine, Fiona's, Becky's and Linda's :-)
Efnisorð: snowmen
posted by Rósa at 12:22, |

5 Comments: