sunnudagur, mars 26, 2006
Ég byrjaði á
snjókalla nálarúllunni
minni frá
Shepherd's Bush
á mánudaginn seinasta, við
Linda
ákváðum að reyna að sauma hana á sama tíma :-) Ég veit ekki hvernig henni gengur með hana, en ég er ekki búin að vera neitt voðalega dugleg að sauma í þessari nálarúllu, sem er soldið skrýtið þar sem þetta eru snjókallar sem ég er svo skotin í. Ekki að það sé leiðinlegt að sauma hana, það er bara búið að vera einhver leiðindi í mér undanfarið og ég hef lítið saumað (miðað við stundum). Kannski er það bara vorið sem fer svona í mann, maður vill frekar vera úti en að sitja inni og sauma? Veit ekki.
En já, ég vildi sýna status mynd af árangrinum.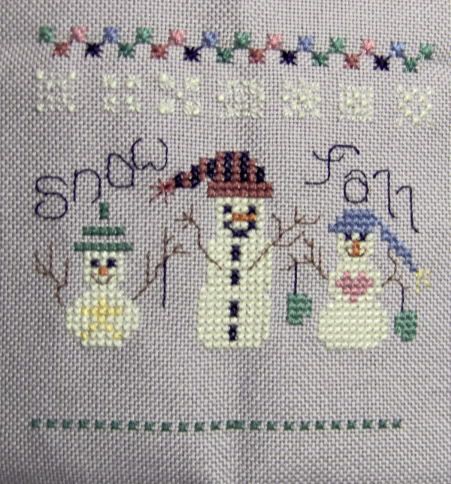 Svo er önnur mynd sem ég vil endilega sýna, ég er nefnilega með pínu-ponsu-litla kettlinga og þeir eru allir sofandi núna (sem er kraftaverk, þetta er ótrúlegt hvað þeir hafa mikla orku!) og ég bara varð að smella mynd af þeim :-) Yfirleitt þegar ég reyni þá eru þeir ekki allir á sama stað og einn fer í burtu eða allt er svo hreyft að það hálfa væri nóg. En núna tókst þetta með miklum ágætum :-)
Það er svo sætt að sjá þá þarna með Simba úr Lion King :-D
A new needleroll and my littlest kittens
I started my
Snowfall needleroll
(from
Shepherd's Bush
) on monday,
Linda
and I are doing a kind of a SAL :-) I don't know how she's coming along but it's been rather slow going for me with this one, which is kinda strange coz it's snowmen and they're my favorite. And it's not that I don't like stitching it. I've been feeling kinda off lately and haven't been stitching a whole lot (not like usual at least). Maybe it's just the spring time affecting me like this, wanting to spend more time outside than inside stitching? Dunno.
Well, I wanted to show a status pic of my needleroll.
And here's another pic to show off, the lady of the house had kittens a little while ago and they are so cute! They're all sleeping right now (which is a miracle, it's amazing how much energy thise little things have!) and I just had to capture this cuteness :-) Usually when I try to take a pic of them they move or one goes off or the picture is blurry but this time it's perfect :-) They're so adorable lying there with Simba from Lion King :-D
posted by Rósa at 22:22, |

7 Comments: