mánudagur, mars 20, 2006
Konan sem ég saumaði nálarúllu fyrir í nálarúlluskiptunum á
EMS síðunni
er búin að fá hana og mikið rosalega er ég fegin því að henni líkaði það sem ég gerði handa henni.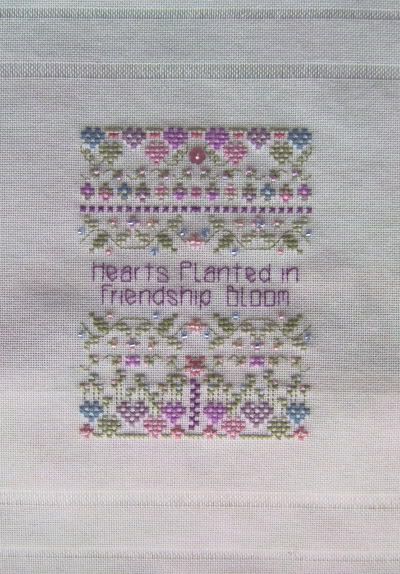 Ég saumaði nálarúllu frá
Lavender Wings
en munstrið heitir Planted Hearts. Ég valdi að sauma hana á handlitað efni frá
Silkweaver
sem ég átti (enda átti ég ekki það sem var tiltekið í munstrinu) og mér fannst passa vel við. Sá litur sem ég valdi heitir
Carol's Meadow
og er virkilega fallega ljósgrænn. Ég var voðalega sátt við útkomuna enda var mjög erfitt að skilja við gripinn þegar kom að því að senda rúlluna til eiganda síns :-)
Talandi um
Silkweaver
þá fékk ég loksins desember pakkann í FOTM klúbbnum sem ég er í í dag.. Betra seint en aldrei, ekki satt :-D Efnin voru öll glitrandi (opalescent) og virkilega falleg. Þetta voru 32ct Lugana
Ice Blue
, 32ct Lugana
Porcelain
og 28ct Jazlyn
Iris Garden
.
EMS Needleroll Exchange
The lady I stitched a needleroll for in the exchange I took part in on the
EMS board
has informed me that she's received it and I'm so glad that she said she liked it :-)
I made a needleroll from
Lavender Wings
but the pattern is called Planted Hearts. I chose to stitch it on a handdyed jobelan from
Silkweaver
that I had (I didn't have the color that the pattern called for anyway) and I felt would work for this particular design. The color I chose is called
Carol's Meadow
and it's a really pretty light green. I was really happy with the resulting needleroll and it was really hard to part with it when it came time for sending it off to it's owner :-)
Speaking of
Silkweaver
, I finally got the december package in my FOTM club. Better late then never, I guess :-D The fabrics I got were all opalescent and so pretty. They were 32ct Lugana
Ice Blue
, 32ct Lugana
Porcelain
and 28ct Jazlyn
Iris Garden
.
Efnisorð: exchange, happy dance, needleroll, stash
posted by Rósa at 19:26, |

7 Comments: