mánudagur, apríl 10, 2006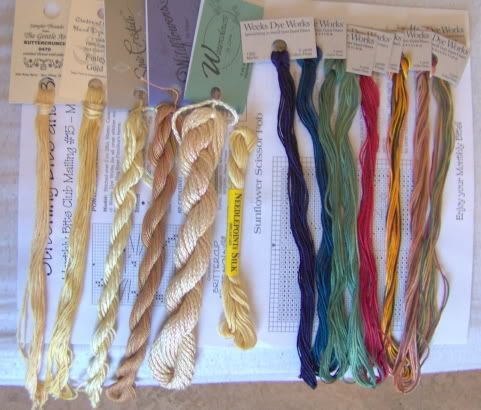 Ég elska þetta fyrirkomulag hjá þeim í
Stitching Bits and Bobs
! Maður situr bara heima og fær upp í hendurnar flottasta garn í heimi! :-) Ég er áskrifandi að Weeks Dye Works garni í
Collections
og svo fékk ég mér líka
Anything goes
valkostinn. Í honum kemur allt mögulegt. T.d. fékk ég núna Wildflowers, Watercolours, Soie Crystale, Cresent Colors, GAST og Needlepoint Inc. silkigarn. Allt í voðafallegum gulum litum (eflaust vegna páskanna :-D ) og mikið er ég skotin í þessum lit sem Watercolours kom í. Virkilega fallega ljósgulur og ljósbleikur. Man ekki hvað hann heitir en ég gæti étið hann!
Jæja, ég ætla að fara aftur fram og dást að garninu mínu :-D
Monthly Bits
I love this
set-up
! I just sit at home and get delivered to me the most amazingly beautiful flosses and fibers in the world! :-) I'm subscribing to the WDW option in
collections
and I also have Anything Goes in
Surprise me
option. As the name says anything goes with that and now I got Wildflowers, Watercolours, Soie Crystale, Crescent colors, GAST and Needlepoint Inc. Silk. All in very pretty yellow tones (probably because of easter :-D ) and I so love the Watercolours floss.. That color is so pretty, with pale yellow and pale pink tones.. Can't remember the name but I could eat it!
Well, I better get back to admiring my fibers :-D
posted by Rósa at 13:21, |

5 Comments: