miðvikudagur, júlí 19, 2006
Svona lítur drekinn hennar hafrúnar út eins og er. Það gengur alveg sæmilega að sauma hann, og ég ætti að klára fyrir mánaðarmót. Hann verður afskaplega sætur :-D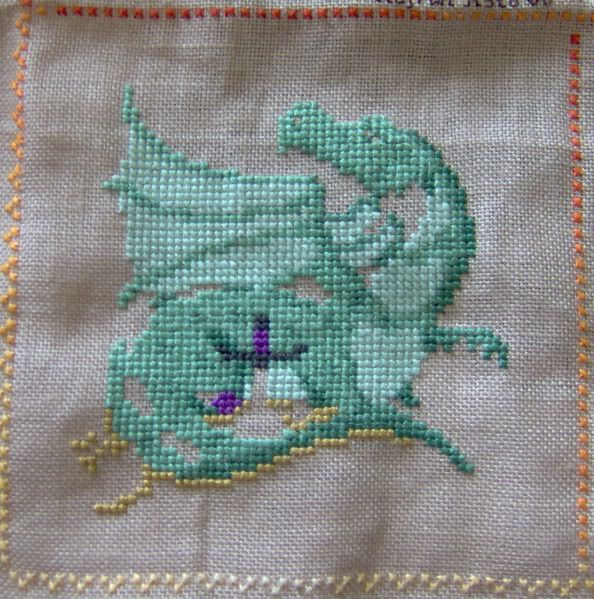 Á mánudag gat ég ekki haldið mig frá Vetrardrottningunni og ég hélt áfram að sauma í hana fram eftir degi (frídagur :-D) en ég hélt áfram á sömu svæðum og ég var að sauma í um helgina. Núna, þegar ég get setið og saumað svona stór svæði með einum lit, þá finnst mér ganga miklu betur en áður. Mér finnst svo róandi og ánægjulegt að sauma í hana, ekki að mér hafi þótt hún eitthvað leiðinleg áður, en mér fannst hún bara ekki ganga nógu vel. Öfugt við núna. Svo er það kannski ákveðin tilbreyting að sauma svona stór svæði með einum lit, RR stykkin hafa nú ekki verið mikið svoleiðis sem ég hef verið með. Tebollinn var náttúrulega Stoney Creek þannig að þar lá við að litaskiptin væru eftir hvert spor. Drekinn er kannski ekki jafn slæmur, en ekki er hann einlitur ;-D Annars finnst mér bara gaman að sauma hann. Ég sauma ekki svona myndir venjulega og kannski er það ákveðin tilbreyting að sauma dreka.
The Dragon
This is how Hafrun's dragon looks like now. It's coming along very nicely, and I should be finished before the end of the month. It's going to be so cute :-D
On monday I couldn't keep myself away from the Winter Queen and I kept stitching on her into the afternoon (I had a day off :-D) but I kept to those areas I was working on this weekend. Now when I've been stitching these big areas with only one color at times, I find that she's coming along much faster than before. I find it so soothing and pleasurable to stitch on her, not that she wasn't before, I just felt she wasn't going fast enough. Opposite from now. So maybe it's a certain change to stitch such big areas with one color, the RR's haven't exactly provided that enjoyment for me. The teacup was of course from Stoney Creek so there it seemed that the colors changed with every stitch. The dragon isn't as bad in that department, but he's not only in one color ;-D But I do like stitching him. I don't usually do this type of design so it's also a change of pace for me.
posted by Rósa at 11:10, |

2 Comments: