sunnudagur, janúar 15, 2006
Eftir að hafa klárað alla krossana í kúnni í dag (gat ekki hætt fyrr en ég var búin með þá :-) ) tók ég upp Vetrardrottninguna og saumaði soldið í henni. Eins og ég sagði
Öbbu
þá ákvað ég að halda áfram upp handlegginn á henni, þá get ég byrjað á andlitinu á henni og þannig fengið smá fókus í þetta.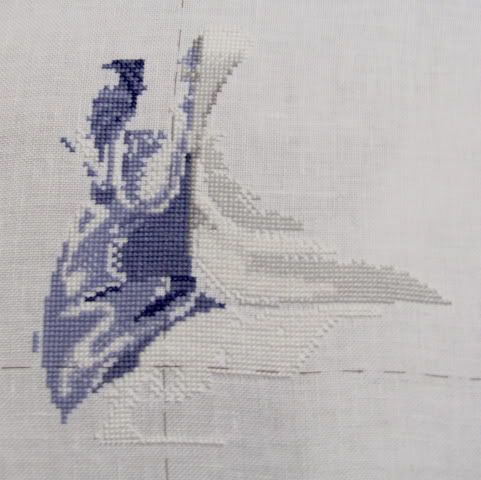 Þessa stundina er ég voðalega óviss með hversu mikið ég er búin með af henni í prósentum.. Þess vegna hef ég ekki uppfært prósenturnar hérna til hliðar síðan ég veit ekki hvenær. Ég er viss um að ég er komin með meira en 3% en ég vil ekki segjast vera búin með tíu prósent ef það eru svo bara komin 5%.. Kannski fæ ég smá yfirsýn ef ég klára andlitið og efri helming munstursins.
Þrátt fyrir þessa óvissu er ég voða sátt við hvað ég saumaði mikið í henni í dag :-)
Svona
var staðan seinast þegar ég tók mynd.
Winter Queen part 5
After finishing all the crosses in the cow from earlier (I couldn't stop before I finished them :-) ) I took my Winter Queen and did some work on her. I had discussed where my stitching was headed with my friend,
Abba
, and like I told her I am heading up WQ arm to her face. I think that will bring more focus to her.
Right now, I'm so unsure of how much I've actually done in her percentage wise.. I know I've done more than 3 percent but I dont' want to overshoot it and say 10% when it's maybe only 5% or something like that. Maybe stitching her face and finish the stitches in the upper half of the chart will help me decide on how many percentages I've finished.
Despite this dilemma I'm quite happy with how much I did today :-)
This
is how she looked when I last posted a progress photo.
posted by Rósa at 22:52, |

4 Comments: