mánudagur, janúar 09, 2006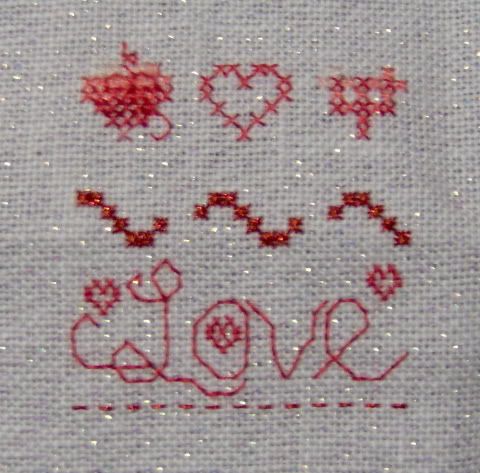 Ég virðist vera yfir mig hrifin af nálarúllum sem hafa eitthvað með ást að gera :-D
Í dag byrjaði ég nefnilega á Love Christmas Ornament Needleroll frá
Jeannette Douglas Designs
en munstrið er í JCS jólaskrautsblaðinu frá því um jólin. Þetta verður svakalega flott nálarúlla þó ég segi sjálf frá.
Ég hefði nú örugglega ekki byrjað á henni nema af því að í dag fékk ég sendingu frá
Anne
í Ástralíu en hún var svo góð að senda mér smá Fyre Werks því ég fann þetta garn bara hvergi! Ég spurðist fyrir um hvar ég gæti keypt þetta garn og hún var svo góð að bjóðast til að senda mér smá (það þarf nú ekki mikið í þessa blessuðu nálarúllu) sem hún og gerði. En það var nú ekki allt, hún sendi mér líka slatta af Needle Necessities garninu sem þarf í þessa rúllu og Kreinik braid. Þvílík dúlla segi ég nú bara. Svo fékk ég líka póstkort frá Melbourne sem fylgdi með í umslaginu en hún býr þar. Hannyrðakonur eru yndislegar!
Og svo langar mig að þakka ykkur fyrir góðar hugsanir til mín. Sem betur fer er mígrenið svo til farið og mér líður mun betur í dag :-) Svo var ég voða dugleg í gær og kláraði sauminn í Valentínusarstykkinu og saumaði smá í Vetrardrottningunni. Góður dagur í gær bara :-)
Still with the love needlerolls...
I seem to be unable to stitch a needleroll that doesn't have something to do with love :-D
Today I started
Jeanette Douglas'
Love Christmas Ornament needleroll from JCS 2005 ornament issue. I probably wouldn't have started it if I hadn't gotten some Fyre Werks in the mail from
Anne
in Australia. I had asked around for a place to get this thread since I just couldn't be able to find it anywhere, it wasn't available in the right color at
Sew and So
, they didn't have it at
Stitching Bits and Bobs
and I couldn't find it anywhere on
eBay
either.. But
Anne
came to my rescue and sent me some of it, plenty more than I need for this needleroll. I may even make another one of these to give away next christmas, there is enough of the Fyre Werks for that.. I can't thank Anne enough for helping me out, especially since she didn't stop there, she also sent me some of the Needle Necessities thread needed for this project as well as the Kreinik braid needed :-) She's such a sweetie! Oh, and I also got a postcard from Melbourne in the envelope :-D Thank you, Anne! :-) I hope that someday I'll be able to help you out with something you need!
And I'd also like to thank you guys for the good wishes yesterday. I'm feeling much better and the migraine have gone for the most part. It helps that I had the day off today :-)
I did finish the stitching part of my Valentines Exchange, I only have the beads left (those are in the mail to me) and figure out what to finish it into.. not an easy task :-) I also stitched a little on my Winter Queen, but nothing much, just a little white in her gown.
Efnisorð: Christmas
posted by Rósa at 20:52, |

4 Comments: