þriðjudagur, mars 07, 2006
Ég hálfskammast mín nú, ég saumaði svo lítið í kvöld í þessu verkefni. Svo er myndin sem ég tók alveg ferleg, litirnir eru eitthvað svo skrýtnir... En myndavélin heimtar meira blóð (eða batterí, annað hvort).. En já, ég saumaði aðeins í UFO stykkinu í dag, ég fattaði að ég gleymdi því í seinustu viku, en hvað ég gerði í staðinn man ég ekki. Ætli það hafi nokkuð verið merkilegt þá :-)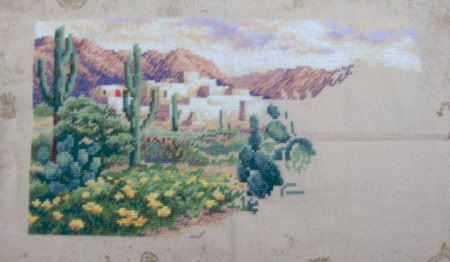 Ég saumaði aðeins í kaktusnum þarna sem er að birtast.
UFO week 18
I'm a little embarrassed for how little I did on this project tonight. And the photo I'm presenting you is so terrible, the colors are a bit off.. It's because the camera is working on limitied funds and demands more blood (or batteries, one or the other).. But, yeah, I worked a little on my UFO today, I just realized I forgot about it last week, but what I did instead I'm not sure of. I guess it wasn't that important then :-)
The limited stitching today was solely concentrated on the cactus that is forming there.
Efnisorð: WIP
posted by Rósa at 23:14, |

1 Comments: