mánudagur, febrúar 27, 2006
Og ekkert smá flott gjöf!
Christine Doyle
var sú sem sendi mér, og hún bjó til rosalega sætan poka úr flaueli og mikið rosalega er þetta mjúkt og æðislegt! Ég er svo skotin í myndinni sem hún saumaði líka. Ég á eflaust aldrei eftir að tíma að nota þetta því þetta er svo mjúkt og sætt og ég vil ekki skemma neitt.
Hún sendi líka hjarta sem ég ætla sennilega að láta hanga inn í eldhúsi. Það er voðalega góð lykt af því en lyktin minnir mig pínu á jólin af því mamma var vön að baka sýrópskökur sem eru með nákvæmlega sömu lykt :-D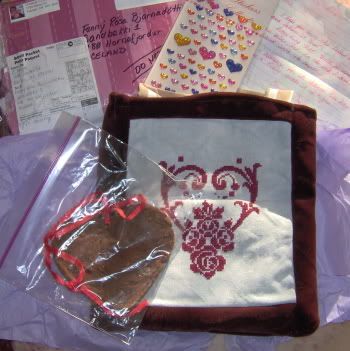 Svo sendi hún líka hjartalaga límmiða. Voða sæta :-)
Já, þetta var sko ekki eina sem kom til mín í póstinum í dag! Ég fékk líka pöntunina frá Superbowl útsölunni hjá
Silver Needle
en ég varð fyrir smá vonbrigðum, ég nefnilega fékk bara þrennt af því sem ég pantaði :-( En ég fékk þó Snjókalla-nálarúlluna :-D Það hefði verið hræðilegt að fá það ekki. Mestur hluti pöntunarinnar er það sem
Abba
pantaði :-D Hún kannski sýnir ykkur hvað hún fékk í kvöld, hún er nefnilega að vinna núna :-)
My Valentine's exchange has come home to me :-)
And it's such a nice gift! Christine Doyle was my gifter and she made this awesomly cute bag made of velvet and it's so soft and wonderful! I like the design she chose very much. I will probably never use this bag coz it's so soft and fluffy and nice and I don't want to ruin it.
She also sent a smelly craft heart (her words :-D) that I'm probably gonna have hanging in the kitchen. It's smells so nice, it's like christmas though coz my mom used to make cookies that smelled like that :-D I also got some cute heart stickers. Very cute :-)
Well, that wasn't the only thing in the mail for me today! I also got my order from
Silver Needle
's Superbowl Sale. I did get a little disappointed coz I only got three of the things I ordered :-( But I did get my Snowfall Needleroll :-D It would've been horrible not to get that one. Most of the package belongs to my friend,
Abba
:-D Maybe she's going to show off her stuff tonight, she's working right now :-)
posted by Rósa at 10:34, |

7 Comments: