þriðjudagur, ágúst 08, 2006
Til hennar Eddu :-) Mér tókst að klára afturstinginn í kvöld og ég er svo ánægð með það. Ég er komin með RRinn hennar Eddu í hendurnar (fyrir viku meira að segja) og mun byrja á honum von bráðar. Hennar þema eru póstkortin frá Passione Ricamo sem voru gefins hérna í eina tíð en ekki lengur. Ég held meira að segja að einhver þessara munstra séu búin að koma í bresku útsaumsblöðunum (World of Cross Stitching held ég, er ekki viss samt) og restin komi á þessu ári. Ég var aðeins búin að kíkja á efnið og sýnist að ég geri haustpóstkortið. Hin eru öll saumuð og þetta er voða fínt. Ég hlakka til að byrja á því :-) Svo þarf ég að gefa mér tíma í Biscornu púða og Redwork skiptin en ég er byrjuð á hvorugu! :-/ Spurning að fara að koma sér að verki!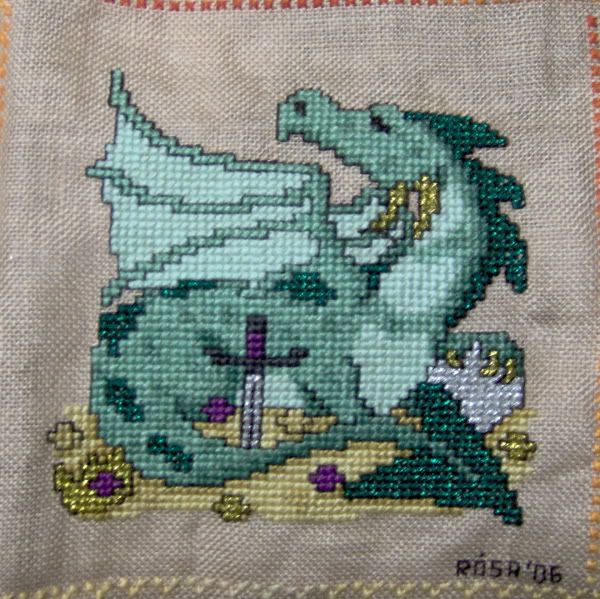 The dragon takes flight tomorrow
To Edda :-) I managed to finish the backstitching tonight and I'm so happy it's done. I've already got Edda's RR in my hands (it arrived about a week ago) and I'm starting that one next. Her theme is Passione Ricamo's seasonal postcards that were freebie's a while ago but not anymore. I think they're being published in one of the british cross stitch mags (World of Cross Stitching I think, but I'm not sure) this year and one or two are already out there. I took a little peek at Edda's RR and it seems to me I will be stitching autumn postcard. The others are all stitched up and it looks great. I'm looking forward to starting that one :-) And I have the Biscornu to do as well as the redwork exchange but I haven't started either one! :-/ I might wanna get going on those!
Efnisorð: happy dance, RR
posted by Rósa at 00:38, |

2 Comments: