sunnudagur, apríl 16, 2006
Þessa helgina var Stitch-a-thon á
Friends Gather BB
og ég ákvað að sauma í Vetrardrottningunni í þetta skiptið sem og öll hin. Ég var reyndar að vinna í gær þannig að ég saumaði ekkert þá, en ég saumaði heilan helling á föstudag og svo þónokkuð í dag. Ég elska það hvernig þessi mynd gengur og hvernig hún kemur út.
Ég saumaði í hægri hliðinni á henni og niður úr og svo fór ég bara um allt og fyllti upp í nokkrar eyður og eins og ég sagði, fór út um allt :-D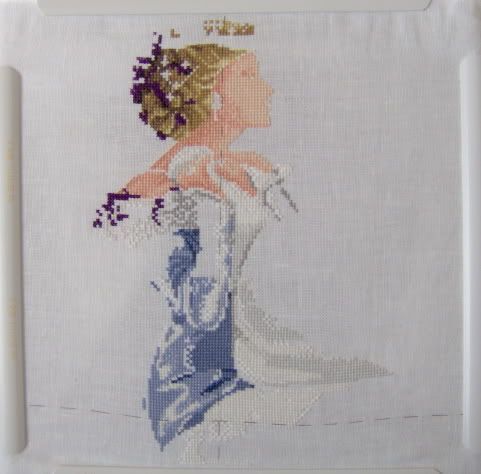 Hérna er mynd frá í upphafi helgarinnar en ég var víst aðeins búin að sauma frá því seinast að ég setti inn mynd hér. Ekki man ég alveg hvenær það var en ég hef einhvern tímann gripið í hana í byrjun mánaðar held ég. Það var þó ekki mikið sem var komið en hvert spor skiptir máli :-)
Ég vil endilega óska svo allra gleðilegra páska, vonandi eru þeir búnir að vera ykkur öllum góðir :-D
Winter Queen, 11th post
This weekend was Stitch-a-thon weekend on
Friends Gather BB
and I decided to work on Winter Queen like I've done in the past. I was working yesterday so I didn't do a thing then, but I did do quite a bit on Good friday and a little today too. I love how this is coming along and how it's all coming together.
I worked on her right side and it led me down to the gown and from then I just went all over the place and filled a few gaps and like I said, went all over the place :-D
Here's a pic from the start of the weekend but it seems I stitched a little from the last time I posted a progress pic. I can't remember exactly when that was but it must've been around the beginning of april. There wasn't much that had been done but every stitch counts :-)
I hope everyone is having a wonderful easter holiday and those who don't celebrate easter, I hope they too are having a wonderful weekend :-D
Efnisorð: WIP
posted by Rósa at 22:42, |

2 Comments: