þriðjudagur, maí 23, 2006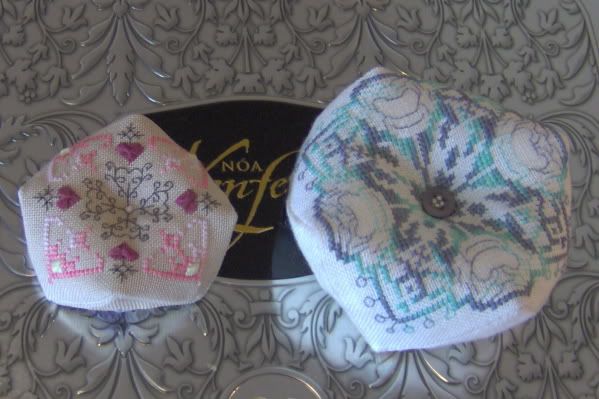 Jenna
er búin að fá Biscornu púðana sem ég gerði handa henni og sendi til hennar í seinustu viku :-) Ég er yfirmáta ánægð að hún skuli vera ánægð með þá af því ég var soldið óánægð með útkomuna eins og ég hef sagt áður. Annar var alltof stór og hinn var alltof lítill :-D En ég var ánægð með munstrin, bara sá stóri var allt of stór að mínu mati. Sá litli var með Indigo Rose munstri sem heitir Four Little Hearts og ég hef séð að fleiri notuðu það í þessum skiptum en þeir púðar voru flestir með border utan með þessu munstri sem gerir þá púða aðeins stærri. Bara að ég hefði haft vit á því líka :-D
Í öðrum fréttum þá er ég loksins komin úr saumalægðinni, ekki að fullu samt, en þetta er allt í áttina. Ég er byrjuð á vöggusetti handa frænda mínum sem er að fara að eignast sitt fyrsta barn í haust og svo skráði ég mig í RR í Allt í Kross grúppunni og er á fullu að klára minn ferning af því ég sendi hann af stað þann 1. júní til næstu skvísu á listanum. Ég er ca. 35% búin með hann.
Biscornu exchange
Jenna
has received the package I sent her last week :-) I'm just so happy she likes the biscornus I made her. Like I said in my letter to her I wasn't happy with the first biscornu coz it was too big in my opinion, even if I did like the design, and the second one (with the Indigo Rose design Four Little Hearts on both sides) was too small. I've seen others have used that design in this exchange and they've all stitched a border outside the design. I just wish I had thought of that too :-D
In other news I've finally beaten my stitching slump, not quite at a 100% yet though, but it's all in the right direction. I started a crib set for my uncle's firstborn baby that's due in the fall and I also signed up for an RR in Allt í Kross group. I'm busy finishing off my square because it's to be sent off on the first of June. I'm about 35% finished with that.
posted by Rósa at 14:58, |

8 Comments: