föstudagur, júní 16, 2006
Ég er bara í stuði :-D
Eftir að ég kláraði Woodland Grace í gær langaði mig til að halda áfram að perlast og sauma í pappa þannig að ég fann Mill Hill kit sem ég byrjaði á fyrir jólin 2005 og ákvað að sauma aðeins í því. Þetta er svona Charmed Mitten sem heitir Patchwork Holiday. Mér finnst hann bara nokkuð sætur :-D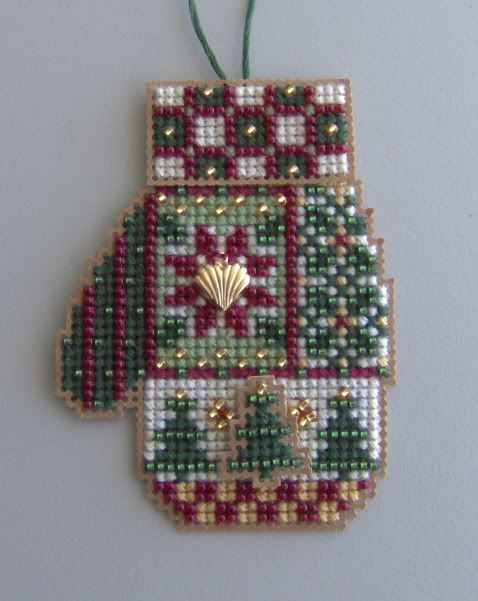 Ég er búin að vera eins og andsetin í dag og í gær, sat og saumaði (guði sé lof að ég var í fríi í vinnunni :-D ) og náði að klára blessaðan vettlinginn núna áðan.
Um helgina er Stitch-A-Thon á Friends Gather BB og ég ætla að taka þátt. Reyndar byrjar þetta í dag þannig að núna þegar vettlingurinn er búinn get ég farið að sauma í Vetrardrottninguna mína sem hefur ekki fengið athygli síðan í apríl! Apríl!!! Ég skammast mín þvílíkt en þetta hefur allt sínar skýringar :-) En samt.. Apríl... Ég er mest hissa á að Drottningin skuli láta mig koma svona fram við hana!
Another finish!
I'm on a roll! :-D
After I finished Woodland Grace yesterday I still felt like doing beads and stitching on perforated paper so I brought out a little Mill Hill kit I had actually started around christmas time last year but never finished (didn't get that far with it either). It's a Charmed Mitten kit called Patchwork Holiday. I think it's kinda cute :-D
It's like I've been possessed yesterday and today, I've just sat and stitched (thank goodness I had these days off work :-D ) and just now I've managed to finish this little mitten.
This weekend is Stitch-A-Thon on Friends Gather BB and I'm going to participate. It actually starts today so now that I've finished the mitten I can start stitching on my Winter Queen that hasn't had any attention since april! April!! I'm so embarrassed for this but it's all easily explained :-) But still, April... I'm mostly shocked that the Queen is allowing me to treat her like this!
Efnisorð: happy dance
posted by Rósa at 15:54, |

5 Comments: