mánudagur, september 11, 2006
I am so over the moon with this exchange :-) My sender was
Karoline
in the UK and she made me a kind of pocket. I just love it and the way she finished it too.
Isn't it pretty! She also sent some prints of old samplers and they came in a kind of an envelope of their own. That's what the pocket is lying on. Next is a view inside the pocket:
As you can see Karoline included more gifts. Inside the pocket was a Friendship T-bag and a GAST thread, such a pretty red color. And she charted our names and year on here too. I love this idea :-D Well she didn't leave the back out, there was a little motif there too..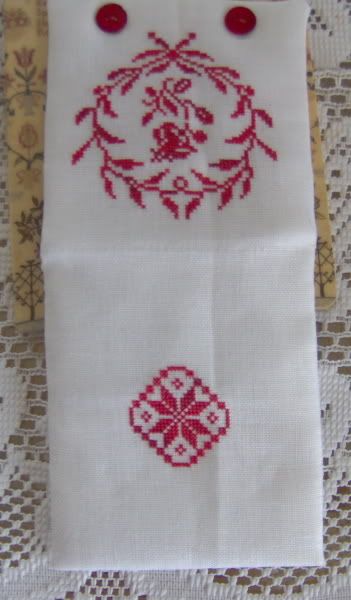 Isn't it pretty? I love it all!
posted by Rósa at 15:33, |

4 Comments: