laugardagur, desember 24, 2005
Nú er ég að hlusta á jólalög og komast í jólaskap :-) Vonandi hafið þið öll það sem best og ég hlakka til að heyra í ykkur og sjá á komandi ári. Ég óska ykkur öllum gleðilegra jóla og farsæls komandi árs :-)
Ég var að reyna að klára þessi tvö jólaskraut fyrir jól og það eina sem er eftir er að loka fyrir gatið og setja hengi og cording :-) Eins og sést skipti ég um skoðun varðandi efnið í Noel. Mér finnst þetta koma rosa vel út :-)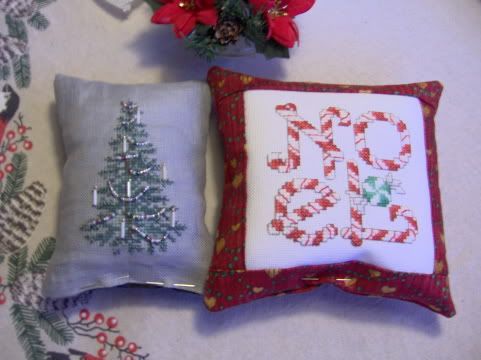 Happy holidays!!
I'm listening to christmas songs and getting myself into the christmas spirit. Here in Iceland we celebrate the birth of Jesus tonight at 6 pm. Then we dine and after that everyone retires into the living room where we eat some more, this time it's chocolates, and open the packages. Then we call our relatives who aren't here and wish they were here and let them know they're missed :-)
Those ornies only need the finishing touch, closing the gap and adding hangers and cording. I changed my mind about the fabric for Noel but this one is more complementing I think. The red is closer to the one in the candy canes :-)
Merry christmas and a happy new year!
Efnisorð: Christmas
posted by Rósa at 12:09, |

9 Comments: